Small Businesses to Shop This Holiday Season 2021
Christmas is almost here! We know that times like this can be stressful so we decided to put together a quick guide of businesses we highly recommend for our Earthlings to shop with this holiday season.
Here are 12 small businesses you MUST shop with during this season:
Rayea's Touch
The Serene Essentials
TaeKay Lash
Cai (Artist)
Nav Naturals
KaySlay Fitness
Moon Avetilier
Knotty Gal Decor
Moon Witch Arts
BT's Hair Treasure
Art by Prescott
BrujaTalks Botánica
If you're into self care and feeling like royalty, then they are your brand! Rayea's Touch is all about making you feel like the king or queen you are! If you're looking for stocking stuffers, we recommend the Eyelash/Eyebrow growth serum or lipgloss!
The Serene Essentials is a black owned business that hand makes vegan skincare, candles & other luxury essentials for self love!
TaeKay Lash was created to help enhance the everyday beauty. With natural day to day lashes to extra dramatic lashes. We have just what you need!
Cai is a nonbinary artisit that provides original art pieces. They specialize in post contemporary daidaism which gives such a calm yet bold vibe. 
Nav Naturals is a Black mom owned business that provides natural skincare for eczema, sensitive skin & more for babies & adults too! Their soaps will help clear your skin in no time while gently stripping away the dirt.
KaySlay Fitness is a Black owned business centered around physical health. They provide workout clothing and gear, meal plans, fitness plans, etc. We advocate for health in all aspects so definitely check out this shop if you're trying to get fit physically.
Moon Wave Atelier is a queer owned artisan atelier based in Louisiana that provides artisan jewelry, curated crystals, artwork, and more. Specializing in African and Caribbean crystals.
Knotty Gal Decor provides one of a kind art pieces to fill your home.The artist creates an array of art from, amazing hand painted terracotta pots, huge one of a kind canvases, macrame made of 100% recycled cotton and so much more!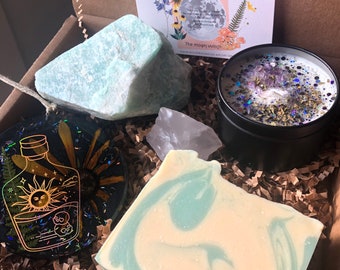 Botanical artist incorporating nature into art daily. They are a small BIPOC owned business w/ a mix of items, themed mystery boxes, home decor, jewelry, smoke items, and accessories.
BT's Hair Treazure®️ is a hair product line perfect for all hair types. The purpose behind the product and the use is to give your hair the new and revitalizing moisture your hair needs. While providing you with thickness and length in the process. "Forever Growing Your Beauty!"
Art by Prescott is an art based company that is both online and in studio. They have beautiful art pieces and collectibles for you to choose from. If you are in Houston, then you can drop by to attend a sip and paint. Not in Houston? Don't worry because you can get a sip and paint kit shipped to you!
BrujaTalks Botánica is Xicana & Indigenous-owned. The owner is also an Intuitive tarot reader and possess psychic gifts that they are able to incorporate into my divination practice. They specialize in career, business & love readings, velaciones, spiritual bath soaks or baños, herbal spiritual candles & all things protection. 
If you liked this guide be sure to follow us by subscribing to emails and following us on our socials @earthxtoned as well as share! Also comment your thoughts down below especially if you know or own a small business.
Disclaimer: The photos featured in this blog belongs to each business/creator mentioned. We own no claims to the photos used.