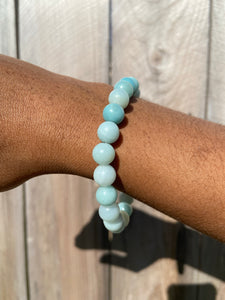 Crystal: Amazonite
Fluidity • Playful • Optimistic
Astrological: Uranus; Virgo
Chakra: Heart and Throat Chakra
Element: Water
Size: .75"—1"
Amazonite is a stone of peace, truth, harmony, and communication. It gently soothes the nerves, and it's energies can be felt to the touch. This stone radiates blue rays full of rejuvenating vibrations that are here to calm the heart. Any environment that Amazonite is placed in will calm the energy and fill the air with positive energies. It's been called the "peacemaker stone" due to its communicative abilities. 
Amazonite also empowers and strengthens any intention that may be set in it. This special mineral assists in manifesting a path to our biggest dreams and desires. 
How to use: By wearing Amazonite crystal jewelry, carrying the stone, and incorporating it into your space, you can infuse all areas of your life with hope and positive energy.
Note*: Sizes may vary