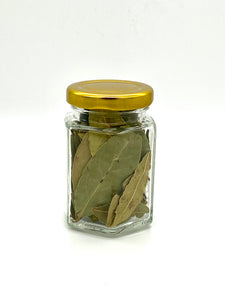 Botanical Name: Laurus nobilis
Element: Fire
Astrological: Sun; Leo
Chakra: Solar Plexus, Third Eye
Uses: Success, Confidence, Healing, Protection, Money
Can be used for manifestation, prosperity, wishes, protection, and garnish.
 1- Decide what you want to manifest: Be as specific and clear as possible. Choose just ONE thing. You want to build the intensity of your intention. Avoid directing your energy multiple places.
2- Create an affirmation that you can write ON the leaf
3- Take the marker and write the affirmation on the leaf.
4- Take a few deep breaths, think of how you'll feel when the intention manifests, then set the bay leaf on fire and dispose of the ashes.
You are free to use the bay leaves within dishes as well! Look up a recipe and treat yourself to some flavor.