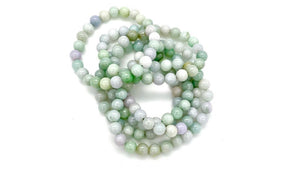 Crystal: Burma Jade (Grade AA Quality)
Harmony • Prosperity • Abundance
Birth Signs: Aries, Gemini, Taurus, and Libra
Chakra: Heart
Size: 8mm and 7.5" in diameter. *Only one size is available.
Jade is a symbol of serenity and purity.  It signifies wisdom gathered in tranquility.  It increases love and nurturing.  A protective stone, Jade keeps the wearer from harm and brings harmony.  Jade attracts good luck and friendship.  It stabilises the personality and promotes self-sufficiency.  Soothes the mind, releasing negative thoughts.  Stimulates ideas.  A "dream stone", Jade brings insightful dreams.  It aids emotional release, especially of irritability.  Jade encourages you to become who you really are.
Jade aids the body's filtration and elimination organs.  It is excellent for treating kidney problems and adrenal glands. Jade removes toxins, rebinds skeletal and cellular systems, and heals stitches. It assists fertility and childbirth. Jade balances body fluids.
How to use: Jade jewelry is one of the best ways for the wearer to constantly stay connected to the lucky and light energy of this precious stone. Having Jade close to your skin means there is no barrier getting in the way of those healing vibes sinking into your being and getting to work. Bracelets are one of the more traditional ways of turning to the potent powers of this charm and with their lush color scheme, they are super flattering.
Note*: Found in China